Click an image to view the full file.
Created in Adobe XD for Junior Achievement USA. An accordion menu redesign to make it less dense for student comprehension. The shaded item in the menu describes where a student is in the credentialing flow. Click the image to see the after and before.

Created in Balsamiq, suggested additional features for a CitiBank mobile app.
Created in iRise Enterprise for FedEx Worldwide.  The presentation explains the dashboard and how to drill down to the desired information.  As the Information Architect, I built most of the pages in iRise with assets provided by the graphic designers and applied the information structure and functional interactivity.
Created in Visio for Houghton, Mifflin, & Harcourt (HMH) Publishing, an imc2 client.  The goal of the project was to combine all of the web properties HMH had acquired and combine them into a seamless HMH experience.  There were approximately 27 sites.  Below is another set of wireframes for the same project.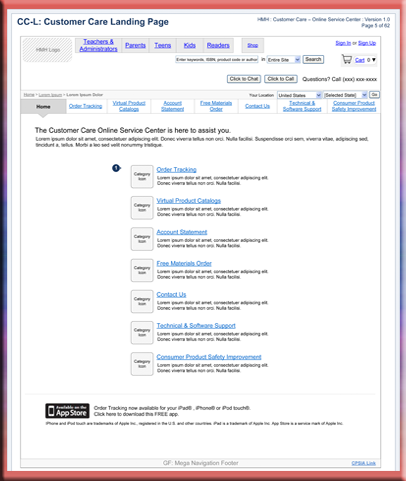 Created in Axure for Scripps Media.  A very unique and region specific mobile traffic app.  Note: this document is also on the Process Flows page as it fits in both categories.
Created in Visio, wireframes for the USO site redesign. Both page design and 
requirements are 
contained within the document.
Created in Visio. Wireframes for the PepsiCo Mountain Dew
Dash to Downtown
Skate Contest.